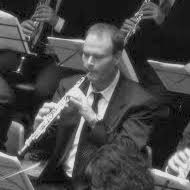 Mario Dani graduated in oboe with top marks from the I.M.P. "R. Franci "of Siena, under the guidance of M ° A. Bianchi in 1987.
He specialized in Oboe and chamber music at the Fiesole Music School under the guidance of Maestro P. Borgonovo and G. Garbarino and, in contemporary music at the Chigiana Academy of Siena, where he attended a course for SIMC under the guide of Maestro G. Garbarino.
In 1988, as soon as he graduated, he permanently joined the orchestra "the musical afternoons" of Milan, with which he performed a vast symphonic, lyrical and solo repertoire both in Europe and in Asia and Africa. He held the roles of oboe and English horn until 2007.
He has performed with numerous orchestras at prestigious Italian theaters such as Teatro alla Scala, Teatro Dal Verme, Teatro Ponchielli of Cremona, Teatro Donizetti of Bergamo, Auditorium of the RSI of Lugano, Teatro la Pergola in Florence. He has participated in numerous recordings and videos for numerous record companies such as: Dynamic, Even Classic, La Bottega Discantica, RCS, Arcadia, Frame.
With the "Ensemble Nuovo Contrappunto" by M ° Ancillotti he recently recorded Debussy's "Prélude à l'après-midi d'un faune" for the famous magazine "Amadeus".
He has played with internationally renowned musicians such as G. de Payer, M.Ancillotti, M.turkovich, P.Gallois, O.Zoboli, H.Schellenberger, O.Maga, D.Gatti, A.Ballista, G.Gavazzeni, UB Michelangeli, M.de Bernart. R.Buchbinder, A.Ceccato etc.
Always interested in the technological aspects of reed instruments, he carries out in-depth research on the construction and operation of the reed for oboe, analyzing each technological and physical-acoustic aspect, is considered one of the leading experts in the field in Italy. Recently he held a masterclass on the reed for oboe at the "G. Verdi "of Milan.
Holds Masterclasses for various institutions.
He currently plays stably with the "Ensemble Nuovo Contrappunto"; He dedicated himself to deepening Baroque and classical music on original instruments.
Appreciated teacher, since 2006 he collaborates with the H.W.Henze music institute of the Cantiere d'arte of Montepulciano as a teacher of Oboe; since 2004 he has been teaching Oboe at I.S.S.M. "R. Franci "of Siena. He carries out an intense concert activity both in the orchestra and in chamber formations.